Campus Technology reported yesterday that the Villanova University School of Law has come up with a very interesting way to use lecture capturing. The school teamed up with Control Concepts and Creston to equip their practice courtrooms with lecture capturing software and several technology tools for use during students' mock trials. To be exact: three video cameras, ceiling and bench microphones, two projection screens to show "evidence", and an audio system that both levels out volume and assists people who are hard of hearing.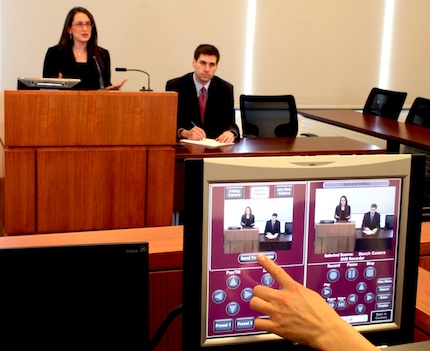 The previous set up for mock trial recording was one camera that recorded the student straight-on. After the mock trial, the professor would have to make DVD copies for each student.
However, the new set up allows whatever is taped to be recorded straight to a DVD. While recording, the professor operating has two views on a touch screen computer: On one side is what the camera is actually recording, and on the other is a preview of any of the other cameras' views. This way, the professor can see what's coming up before s/he records it. The additional cameras also allow several views of the student. This is especially important, as law students in particular work very hard on small actions in the courtroom–how they move around, their hand gestures, facial expressions, etc. The multiple views make it easy for them to see what they did well and what they need to work on.
Villanova's system is a great example of thinking outside of the box with classroom technology. It's important to remember that most technologies have multiple uses. As you can clearly see here, lecture capturing isn't always just for capturing lectures.